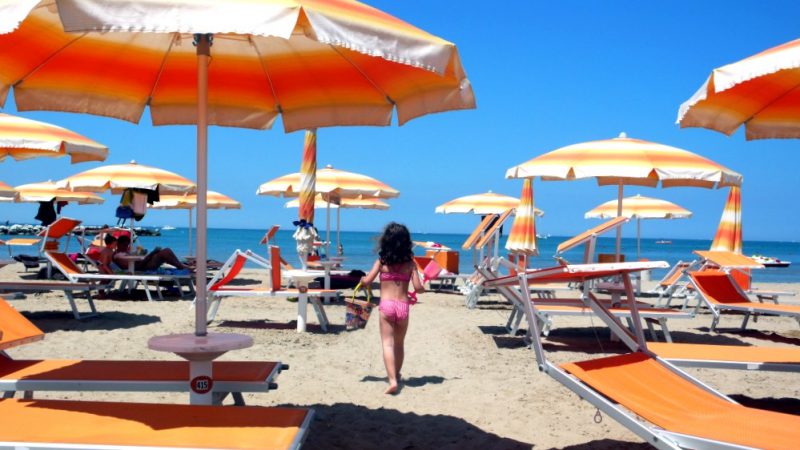 A unique beach!
Our beach needs no introduction, it is one of the most beautiful and largest on the Riviera.
If you're looking for relaxation and you're a "lizard" that could lie in the sun for hours and hours, all you have to do is lazing under the beach umbrella and being caressed by the sea breeze, maybe leafing through a nice book.
If, on the other hand, you prefer to vote for an activity-based holiday, don't worry: you won't have time to get bored!
Every day (even for early risers) you'll find courses on the beach such as: muscular awakening and gymnastics, water aerobics and tournaments.
Not to mention the ubiquitous whirlpools, gyms, table tennis and table football.
Still not enough? Then I'm telling you that you can also find jet skis, swimming, sailing and diving schools, and that's just for beach activities.
The Children's Beach
The stretch of beach on the Riviera which is right in front of our hotel is perfect for children, as well as being one of the largest you can find (so as not to risk your children having no more sand to play with), it is also safe for younger children; as you enter the water the sand creates a gradual slope, which increases gently as you proceed.
On the beach right in front of our hotel you can find many activities for your children: trampolines, bouncy castles, animation and Baby-Club. The animators' programme is full of activities for all children from 4 years old, with many workshops and tournaments organized daily.
The little ones can play safely in the fenced-in playground under the supervision of their parents.
In the evening the beach is transformed; in the small square in front of the beach not far from our hotel, every evening a different event!
Dancing parties, dance shows but also magic shows for children, fireworks and markets are the order of the day so that this holiday will remain forever in your fondest memories.